Last January 19, 2013 marked the fifth wedding in our family– our youngest has finally tied the knot! Before I sang a song during the wedding reception, I made a joke about my father and mother feeling so good to have "sold the last stock on hand." The crowd loved it– some thought I could be a stand up comedienne. I was like… if a career opens up for me, why not?
Kidding aside, this post is about weddings in our family.  My oldest brother got hitched in '95, then our second brother married the same year as me, in 2000. Both my brothers' big days were  memorable and as expected, my sisters and I were bride's maids. I greatly enjoyed my brothers' weddings. I have to say that my brothers are both blessed with beautiful wives and I consider myself one happy and proud sister in-law.
In this post, let me focus more on the last three weddings– mine and my younger sisters'. Before we move on, let me tell you a little bit about myself.  I am a middle child. The brother that I was born next to is four years older than me, and the sister next to me is four years my junior. You can imagine the joy in the family when I was born: finally, they had a girl! They must have liked me so much it took them another four years to have another baby!
So…enough of my baby stories.  Here's what happened in wedding #1: my wedding.
On the day of my wedding day, I saw my mother crying in her room. I apologized for coming in without asking permission. "Are you alright, ma?" I asked. She said she was just praying. She told me how happy she was that God has given me the right person to be with for the rest of my life. I thought that was touching and I got teary-eyed myself but I was quick to say that we did not have time to cry. We only have a few more hours left before I'd walk down the aisle! My mother forced a smile and offered to pray for me. My mom is a woman of prayer– and when she prays for her children, tears would always flow. I believe with all my heart that what we have become now is and will always be because of our intercessor who never fails to mention our names before the Lord in prayer every single day.
Ok, fast forward. When we were about to board the bridal car, I looked for papa. My mom said that he has already gone ahead to the church. When we parked the church parking lot, I can see papa in the main entrance and he quickly went inside, motioning to everybody that I have arrived.
When I entered the church, he quickly went to take my hand and asked me, "Are you ready?" I said I was. And here's a photo of me and my dad walking down the aisle.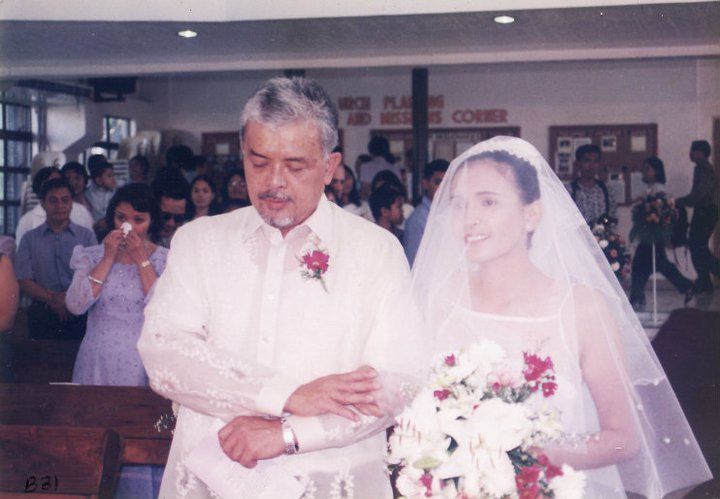 Now you don't know my dad. He is one tough guy. He was a Rodeo King during his college days in UPLB. He was  one strong and active student leader — a very smart and eloquent guy. But I have never seen him teary-eyed until that day of my wedding. I thought we were going to be bawling while walking down the aisle together!
Eight years later, wedding #2 happened. Eight years! That's a long time of waiting so everybody was excited for this big event. My sister Charisse is an artist and she was such a hands-on bride. The day before her big day, she was still in a farm somewhere in search for dead trees, boulders and some twigs to decorate the church with. Anyway, here is sister #2 with my dad: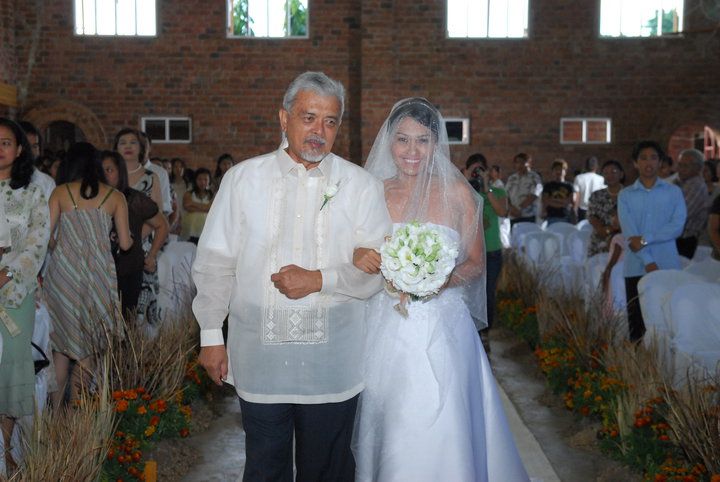 Ok, now papa is more smiling here. Maybe he is getting the hang of this walking down the aisle thing.  By the way, just in case you did not notice the aisle, don't you think those flowers on the aisle are simply lovely?
Fast forward five years, we are finally down to wedding #3. Yes, the last "stock on hand" has finally been taken. Whew! My mom confessed to me that she has been praying for my youngest sister to be married soon because she doesn't want any of her girls to be an old maid. Sister #3 was already 30-ish when she tied the knot, so you could imagine the relief my mom must have felt. Haha!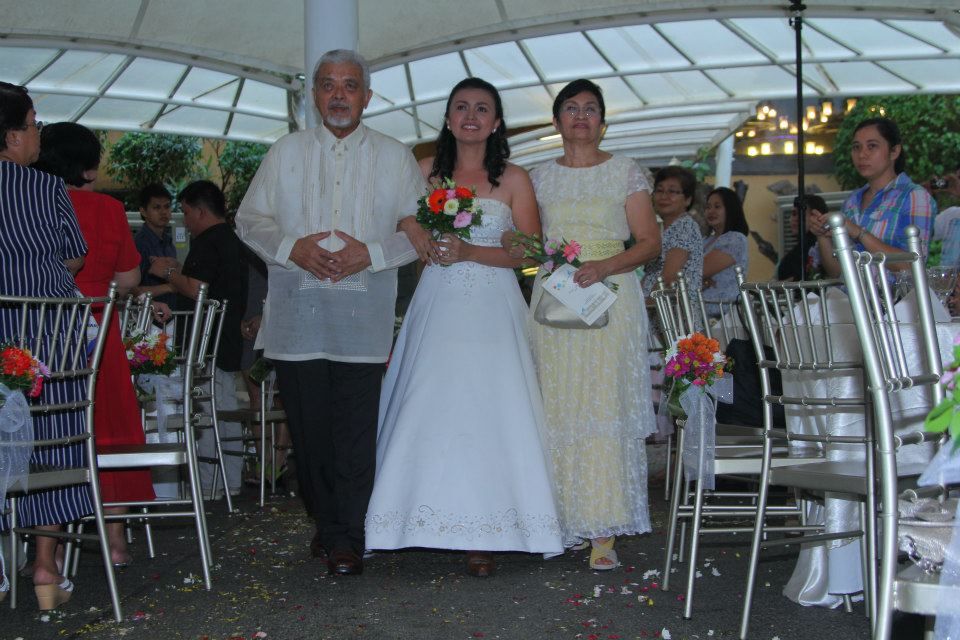 A-haa! Now my mama and papa are both beaming. Of course this meant that are officially empty-nesters but who cares, right? That was one joyous occasion.
My dad closed that beautiful day with a song (could not grab a photo anywhere, sorry).  I believe it was not just for my youngest sister and her groom. It was for us, his children who he has officially "given away", and for my brothers who are now heads of their families themselves.
Now I know that weddings are meant to be joyful, colorful and festive–  but for the three weddings that my papa has answered that minister's question, "Who gives this bride to be married to this man?" I was quite sure I saw that faint smile painted on his face– and heard a little bit of bittersweet surrender in his voice everytime he answered "I do."
*i'm linking this post to BPC