When I was a little girl I remember picking up a book from our home library– the book title, "WAR" intrigued me. It was Time Magazine's compilation of war photos. I remember closing the book with a heavy heart– with one particular image stuck in my mind. It was a photo of a girl, naked. She was obviously running for her life with no trace of a mom or dad in sight.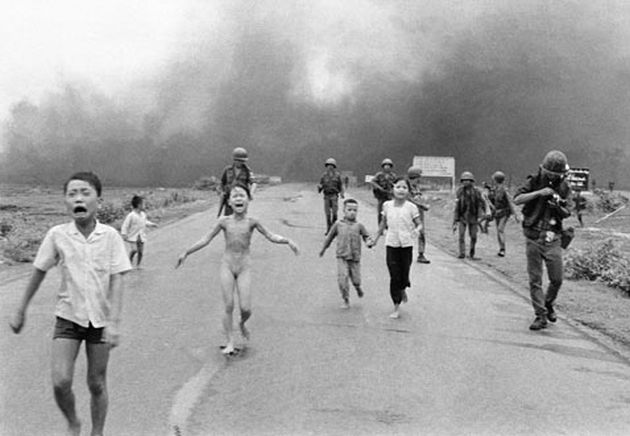 Now years later, I came across this article with that same photo.  How could I forget that girl's face?
In the  article I learned that this photo won the iconic Pulitzer Price and was chosen as the World Press Photo of the Year in 1972. The girl in the photo is Kim Phuc Phan. She was then 9 years old. When the bomb containing a highly flammable fuel called napalm struck their city in Vietnam, she was in a Pagoda with her family attending a religious celebration. With fire beginning to engulf her body, Kim Phuc Phan took off her clothes without delay. With her in the photo are her own siblings– too scared to even look back, they just ran for their lives and were separated from their parents.
According to Kim Phuc Phan, three miracles happened that dreadful day:
First, the soles of her feet were not burnt so she was able to run.
Second, a photographer ( the same person who took the photo) was her angel that day. The nine-year old collapsed in the photographer's arms. Now with severe burns in her body and suffering from shock, Kim Phuc Phan was taken to the nearest hospital where she was admitted for 14 months and survived 17 surgeries.  The third and final miracle, according to her, was that her mother found her later that day.
Kim's life was filled with bitterness.  With so much scars on her body to remind her of that tragedy that plagued their nation, she thought it would have been better if she died with the other children.
But it was not until her second year in the university that she found a copy of the New Testament and began reading it that she understood that God has a plan for her.  Though difficult, she let go of her bitterness and chose to forgive.
Forgiveness made me free from hatred. I still have many scars on my body and severe pain most days but my heart is cleansed. Napalm is very powerful, but faith, forgiveness, and love are much more powerful. We would not have war at all if everyone could learn how to live with true love, hope, and forgiveness. If that little girl in the picture can do it, ask yourself: Can you?' (Kim Phuc, 2008)
Now 50, Kim  lives in Toronto, Canada with her husband Bui Huy Toan, also a Vietnamese who studied with her in the university.  She and Bui are blessed with two kids and continue to travel around the world  providing medical and psychological assistance to child victims of war.