I am not really fond of ghost/ horror films so when Pee Mak Prakanong, starring one of Thailand's best actors, Mario Maurer was showing, I did not even thought of watching it.  But when everybody in Bangkok seem to have watched it–  my local friends, the kids in our English class, and my Filipino friends, I began to have second thoughts especially when they all said the same thing about the movie:  It's very funny.  Hmm, a horror movie that's very funny… and with a romantic twist?  Sounds interesting–  not to mention that Mario is one of my all time favorite Thai actors!
So when my Filipino workmate asked me if I wanted to go on a ladies' night out with her to watch Pee Mak, I thought it was a good idea. I silently prayed that I won't be screaming at the top of my lungs inside the movie house, though. Haha!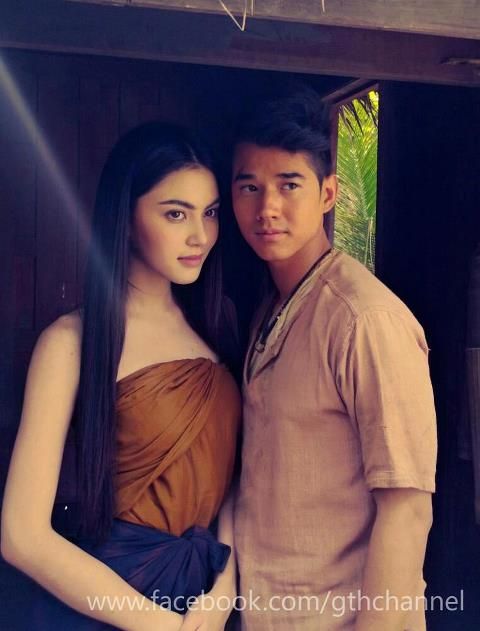 Like they said, it's a very funny movie.  For us who are non-Thais living in this country, it was a good resource for learning more about Thai culture, too.
Pee Mak Prakanong is a parody of a horror movie entitled "Mae Nak Prakanong" shown in 1959.  "Mae Nak" or "Mother Nak" is a famous ghost character in Thai.  She is supposedly a mom who died while giving birth to her child alone as her husband, Mak, was in a war.  When Mak went home with his friends who survived the war, he did not know that his wife died while he was away.  He went home to his beautiful wife and his baby, clueless that that both of them were ghosts.  The journey to finding out about the truth had some heart-stopping scenes, but the comedy part was just great you could not afford to be seriously scared!  Pee Mak who was usually afraid of ghosts mustered all the strength not to be when he found out that the love of his life is already dead.  It is indeed a love that goes beyond death.
 For the record, though… I don't believe in ghosts and I don't believe that people who die still have the capacity to live on earth to be with humans.  But if I were to write a review about this film, Pee Mak Prakanong, to me, is another Thai film with brilliant acting, and just downright funny.